Coriander Vitality – 5ml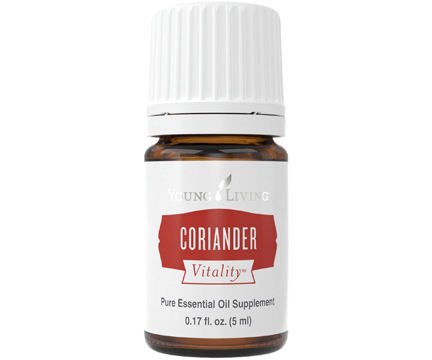 Coriander Vitality™ essential oil shares its botanical origins with the cilantro plant, making it a popular flavor in both Latin and Eastern dishes. Steam distilled from coriander seeds, Coriander Vitality has a fresh, earthy, slightly citrusy taste that enhances many recipes. Use Coriander Vitality to enjoy its versatile flavor as you prepare cuisines from around the world, including Chinese soups, Indian masalas, and Mexican salsas. In addition to flavoring delicious dishes, Coriander Vitality has many health benefits, including digestive support, immune support, cleansing properties, and powerful antioxidants.*
Coriander Vitality Essential Oil Uses:
Combine 1 drop of Coriander Vitality with 1 drop of V-6™ Vegetable Oil Complex in a vegetable capsule and take it after meals to support digestion.*
Add it to Latin and Eastern dishes for an authentic flavor.
Mix it with your favorite dressings and marinades to add a fresh dimension of flavor.
Take it daily as a dietary supplement to support your immune system.*
Add a couple of drops to a cup of water and swish it around in your mouth to support oral health.*
*These statements have not been evaluated by the Food and Drug Administration. This product is not intended to diagnose, treat, cure or prevent any disease.
Retail Price: $42.43
Wholesale Price: $32.25
---
---
How to Use
Dilute 1 drop with 1 drop of carrier oil. Put in a capsule and take up to 3 times daily or as needed.
---
---